This is an excerpt from:
Strategic Organization Developments Managing Change for Success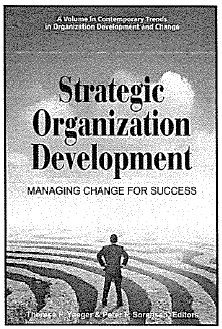 Edited by Therese F. Yaeger, Benedictine University and Peter F. Sorensen, Jr. Benedictine University
A volume in Contemporary Trends in Organization Development and Change Series Editors Therese F. Yaeger, Benedictine University and Peter F. Sorensen, Jr. Benedictine University
This second volume in the Contemporary Trends in Organization Development and Change Series addresses one of the most complex and important issues for management and organization development today ~ how to plan for and create an organization capable of not only competing but excelling in an almost impossibly turbulent and uncertain environment.
The book brings together a series of articles by practitioner-scholars. Those authors who have the responsibility for helping their organization create the future, and who also have the responsibility of helping us conceptually understand the process of strategic OD. In this book, you can sense the value of both of these voices – the practitioner and the scholar. These authors include organization development executives from global Fortune 500 organizations, major community service organizations, major academic contributors to the field, and OD practitioners from major consulting firms. Each author makes a unique contribution by providing strategies for planning the future, implementing change, and creating organizational capabilities for sustained success. New and current models for strategic organization development and candid discussions of issues, difficulties, and ways of coping with unanticipated events are provided. This book is dedicated to contributing to a better understanding and sharing of how major corporations, community service organizations, and OD consultants are experiencing and working with one of the most important organizational problems of today – how to manage change for success.
CHAPTER 2
ORGANIZATION DEVELOPMENT AND ITS ALIGNMENT TO THE BUSINESS STRATEGY
Linda Sharkey
Organization development's position in the workplace and literature has dramatically changed over the years. On the scholarly front, the research has become much more quantifiable and the results more scientifically based. The application of organization development (OD) in the work­place is more solidly aligned with business results. OD has always been focused on leadership and building leadership capability. Now however, corporations do not have to be convinced that leadership, not manage­ment, is critical to execute the business strategy and hence, enterprise sur­vival. Previously, OD was relegated to action learning, team building and T-groups—all important and a good foundation, but not fundamental to business success (or at least not proven so). Today OD interventions and analysis are much more a common part of the business DNA and the impact of these interventions are quantifiable and statistically relevant.
This chapter will trace the evolution of OD from this author's perspec­tive and experience; discuss the current landscape, and offer a formula for OD's relevance in the future. Also, included are specific interventions and practices such as talent management, executive assessment and mea­surement methods. These interventions will be particularly important to scholars and practitioners alike to further the impact of OD on organiza­tions and help these organizations drive sustainable change.
EVOLUTION OF ORGANIZATION DEVELOPMENT
Early experiments in organization development that had a strong impact on the workplace were in the labor/management arena. General Motors, City of Jamestown and the coal mines in England were breeding grounds for adversarial union/management relationship. Many will remember the bloody battles between the UAW and GM in Lordstown, Ohio. The strikes that ensued changed the dynamics between GM and the UAW Labor Union forever. Both parties were willing to examine the fabric of the rela­tionship and to develop ways to improve. General Motors turned to OD and were early adopters of OD interventions. General Motors established one of the first known OD departments headed by Dutch Landon. Through this department the first efforts in establishing "quality of work life", a joint labor and management process aimed at building coopera­tion, began. Quality of work life, as it came to be known, focused on build­ing common ground between labor and management where they worked together to solve work related (non-contractual) issues. OD offered team and trust building as well as a focus on leadership and decision making— welcome notions at the time. To both practitioners and scholars a like it became clear that adversarial relationships in the 1970s and early 1980s benefited no one. The costs in terms of human capital and an organiza­tion's ability to perform effectively were huge. The long-term impact of deep distrust consumed energy otherwise available for productive, inter­esting and challenging work. These early experiences in OD centered on quality of work life initiatives had the potential to demonstrate solid busi­ness impact if the fabric of the labor/management relationships could indeed change.
Quality of work life (QWL) efforts from the private sector were being applied to the public sector; a newer entrant to the labor management and collective bargaining experience. New York State decided that it wanted to try to change the relationship it had with the state unions and started a QWL project. A small team of consultants was established, pat­terned after the GM/UAW experience to try and drive cooperative rela­tionships between the public sector unions in New York and the Governor's Office of Employee Relations. While this was an interesting and educational experience, neither organization was mature enough to see the benefit of cooperation or sustain the behavioral change necessary for success. Ultimately, the experiments ceased and both parties went back to business as usual. However, through this experience, the relation­ships with the unions did improve and skill sets were developed on both sides that lived on in terms of using cooperative tools.
Through this experience though, participants were fortunate to be associated with the Work in America Institute and meet such venerable individuals as Eric Trist. The union and management, leadership learned firsthand of Trist's cooperative labor/management experiments in Eng­land in the coal mines and meet Stan Lundine who was instrumental in turning around the City of Jamestown in Upstate New York. The James­town experiments were focused on turning around a bankrupt city through partnership with the local unions and city government. Lundine ultimately became the lieutenant governor of New York State due to his notoriety and success with the Jamestown experiment. It was during this period (1970s and early 1980s) that many of the handbooks on facilita­tion, team building and collaborative interventions came into the public domain. These experiences, experiments, and tools left a lasting mark on the workplaces of America and internationally that would not be reversed. These experiments were substantially changing the fundamentals of the employee/employer contract. Managers needed to exhibit more leader­ship and managers needed to change the way they interacted with the workforce.
Subsequent to the QWL era, a plethora of literature and experiments were launched in the area of participative management. Ken Blanchard and others were making the executives' bookshelves with quick reads like The One Minute Manager. Theory Z by Ouchi was all the rage. More empha­sis was being placed on corporate culture and scholars such as Terrence Deal and Kennedy were examining the impact that culture had on pro­ductivity. With the decline of the labor represented employees, the labor management arena was changing but the need for gaining market success through an engaged and empowered workforce did not go away. More and more businesses were embracing the values of OD as a long-term via­ble route to creating healthy and productive workplaces where all stake­holders could be successful. Marvin Weisbord's work relative to Productive Workplaces, Peter Block's notion of stewardship, and Edgar Schein's work on process consultation, was fast becoming "must reads" in certain corpo­rations and among many human resource (HR) professionals. These authors spoke, wrote, and taught about the fundamental changes in the employee/employer contract and offered more profound interventions that uncovered deeper values, behaviors and norms that aided productivity or got in the way of productivity. Human resource professionals' skill sets were beginning to change from pure employee relations, policy and benefits administration, to being able to facilitate, develop teams, provide feedback and create better approaches to develop leaders.
During this period, attitudes were changing about how organizations should be managed and led; however, these attitudes were definitely not mainstream. Places like AT&T, IBM, Xerox, and of course, GM seemed to be on the cutting-edge with deeply rooted OD work. However, these com­panies struggled at some juncture in spite of these OD efforts. The per­ception of OD during the early 1980s and 1990s ran the spectrum, from essential, to a business' success, to a "flash in the pan" outcome. Often OD was associated with those "touchy feely types" (in fact, it still does suffer from that perception in many places today).
However, in spite of the above, OD has had a profound effect on the workplace. From my own experience, let me cite a few examples and sto­ries.
When I first started out we had to teach people what the word "facilitation" meant. I will never forget walking into a meeting sug­gesting we "brainstorm" some ideas and everyone stared at me not knowing what to do. This would never happen now. More collabo­ration, and the understanding of the tools for collaboration, is now by and large a significant part of American business approaches, and growing more so worldwide. In fact, if you do not engage employees in dialogue, you generally will hear about it in employee discussions and surveys.
There is a proliferation of books, materials, and consultants to assist in building high performance teams, understand corporate culture, and develop the "softer side" of leaders. Most companies spend significant dollars teaching managers leadership skills, how to engage employees, and develop themselves through feedback and observation. Most corporate education centers have programs on team building, and whole businesses have been built around cre­ating team-building events for leadership teams.
Employee attitude surveys are now common. In fact, it is hard to think of a company that does not conduct some kind of employee feedback mechanism in the form of a survey. Twenty years ago this was a rarity, and one had to do deep research to identify models prevalent in the workplace. Now there are big businesses around survey feedback and correlation analysis. Action planning to improve the organizations based upon the survey data is central to building high performance companies, and there are very few com­panies that do not use employee surveys to capture the "pulse" of the company. Companies like GE use this data regularly and track progress toward improving the culture to become an "employer of choice."
We now take for granted that feedback and coaching make a differ­ence, and the quality of the feedback is much more constructive than it was years ago. GE uses a process called new manager assimila­tions to help bond new leaders with their team. This process has been widely benchmarked and used by other HR professionals out­side of GE. Leaders also regularly get feedback at GE, and use a process called executive assessments that essentially traces the life of the leader and his/her personal transitions to gain insights into their strengths and development needs.
Many tools from OD are simply ingrained into the day-to-day oper­ation of a business—so much so that they are no longer identified as "OD Interventions." Team assimilation processes are common. Action learning is the norm. GE has a change acceleration process (CAP) that was started by Steve Kerr, former president of the Acad­emy of Management. This process is just part of doing business at GE.
Assessing the culture of a company to be acquired is considered a best practice. Cultural assessments, while still not as mainstream as employee attitude surveys, are starting to come into their own right. There is greater recognition and research that indicates that culture clash, and/or compatibility, can dramatically impact the suc­cess or failure of an integration.
These are just a few examples of how mainstream OD has become. So, in my years of experience, OD has come an incredibly long way in enabling organizations to be healthier for all concerned—customer, employee, shareholder and the communities in which they reside. All of the examples and historic progress discussed, has been about changing how we lead, listen, build relationships and make profitable organizations. The contribution has been significant. Practitioners see the change in the workplace and see how OD can advance change in constructive ways— particularly with the advent of David Cooperrider's appreciative inquiry model as a new construct for driving whole systems change. Practitioners understand the acceleration of the rate of change in the workplace because they live it every day. Change is upon us at the most rapid pace we have experienced yet. With the advancement of technology, the flat­tening of the world as Tom Friedman (2006) points out, the global nature of companies, the need for organizations to constantly be changing their business models to compete, and the virtual nature of the workplace put nothing but change on the tables of practitioners, and hence on the research tables of scholars. The values of OD have not changed; in fact, they are more of an imperative for business. The need for more open communication, engagement and trust is clearly obvious as employees leverage communication channels more quickly and in ways we never dreamed of previously. The question becomes "can OD interventions drive change more rapidly and effectively to keep organizations competi­tive?" We need more rapid methodologies to define strategy, prepare leaders for the road ahead, and build virtual teams. Clearly this look back has demonstrated that OD is now an accepted discipline for organiza­tions. But where are we now relative to the business dynamics and what does that mean for OD in the future?
THE CURRENT LANDSCAPE
The landscape of today's business environment has become increasingly more competitive—companies must drive out fat to survive. The war for talent is front-and-center on most chief executive officer's minds. Global­ization is a fact of life—many Fortune 100 companies secure the bulk of their revenue's off shore, and in many cases such as GE, Honeywell, Pfizer, IBM—have substantial numbers of their employees who do not reside in the United States. Politics and politicians have less and less impact on world economies. Governments have turned over, the Iraq war continues, yet the global economy is strong until recently. The recent turn down docs demonstrate though how entwined global economies have become. The answer to why, according to Nikos Mourkogiannis in his book Purpose and Lectures, is that global companies are the primary invest­ment vehicles in the world. Increasingly, Mourkogiannis (2006), Friedman and others assert that more and more economies will be impacted by global companies because of the need for these companies to find ready labor and new markets. We can see that in the case of Ireland, India, Poland, Costa Rica, China, and soon-to-be Africa, where conglomerates are investing and the economies are now progressing. These investments are beginning to create a middle class; starting to level the playing field worldwide; wages are going up, more people have jobs and can afford more than the basics; and this trend is likely to continue. Another inter­esting supporting point is that economies are becoming more and more interrelated. The recent housing meltdown in the United States which could be perceived as a local event 20 years ago is now impacting invest­ments worldwide (see, Wolf, 2007). This incredible growth and economic interrelationship is putting pressure on the need for the best talent. The war for talent in emerging countries is intense. Turnover rates for some companies doing business in emerging markets are as high as 30% (Cor­porate Leadership Council, n.d.). Employees can move in nine months from one company to another and improve their income and get to a higher position. This movement holds companies hostage. The compa­nies either need to continue investing because the business model from a customer perspective works, or they need to move to the next fertile low-cost employment ground and hope they are enough ahead of the curve to maintain an advantage.
Technology is making the dream of a truly global marketplace a reality today and information is readily available at a speed no one could imag­ine years ago. The impact of private equity cannot be ignored. Private equity is changing the business equation in ways we cannot yet anticipate. Global markets and fluctuating currency has created liquidity not seen before—until very recently. Finally, the need for CEOs to balance the ten­sion between efficiency and short-term profit and long-term growth is now essential. Described above are only some of the many complicated issues that companies are dealing with—the list could certainly be expanded. But the above makes the point that the changes facing today's corporations and their leaders is deep as well as broad. The question becomes, "what do OD professionals need to do to address this landscape and to remain current in this ever-changing environment?"
IMPLICATIONS FOR ORGANIZATION DEVELOPMENT
These realities put OD front and center in the business equation. This is going to require another dramatic shift in the skill sets of HR profession­als. I have long said that the skills required of HR professionals will be weighted more heavily towards OD skills than the traditional focus of HR. The real value added of HR in businesses today is their ability to be cata­lysts of organization change. The fundamentals of HR are often out­sourced like benefits, staffing, and so forth. In fact, there are whole businesses being built around providing those outsourced services to cor­porations. Change management, or change leadership and organization strategy, are the biggest areas that draw on a HR/OD professional's time. In my experience, HR and OD at the senior leadership level are blurring and the HR professional must be a deep OD professional. There are three things in my view that will require major focus over the next decade and they all require OD skills.
1. Increased focus on HR/OD as a driver of business strategy, as opposed to being the once sought after business partner. HR/OD must be business professionals who shape two of the most key aspects of an organization—its leaders and its culture. If you are a human resource professional who is still trying to get a seat at the table and be a business partner, you have lost the game.
2. Increased focus on leadership. Leadership has always been a strong business concern, but now more than ever we need leaders who know how to truly operate in a global economy, understand the fundamentals of business beyond the balance sheet and are the chief talent officers of the company; with an increased focus on tal­ent management. They also understand the impact of culture on performance and the types of culture that their leadership behav­iors drive.
3. CEO's are recognizing more than ever that their real competitive advantage is to have the best players on their teams. Many CEO's believe that when you have the best, players you can feel and visibly see the difference in your company's performance. Talent is the key to success—not just talent, but the best talent. Everyone is fighting to attract and retain top talent.
Let me elaborate further on these three points.
HUMAN RESOURCES
Human resource professionals will need deeper OD and change leader­ship skills. They are no longer in the game of change management, but must know how to lead change and help other leaders drive change. HR/ OD will need a more profound understanding of the business fundamen­tals, need to be able to explain interventions and approaches in the con­text of the business strategy, and be able to explain the impact these approaches will have on the business results. They will need to quantify results in a way that clearly shows how certain organization cultural ele­ments, or leadership gaps, directly impact the ability of organizations to execute its strategy.
Human resource professionals have to understand the workforce in deeper ways. What are the current demographics of the workforce, what are the true costs, is the business spending it dollars on the right people and job families, or is the bell-shaped curve skewed to populations that are not as relevant to the future business imperatives? How does the work­force impact revenue and the gross margins and how can it be shaped to have greater business impact. Here you need to be able to breakdown your workforce, determine job families and skills, determine what job families are most important to the business, and analyze if the right fami­lies are getting the right compensation. Then it is important to know what your total cost of the workforce is, and compare that to your revenue and gross margin to ensure you have the right productivity equation. Once you understand this, you can understand where you need to spend your dollars; what effect your cost of payroll has on your bottom line; and what the right mix of employee cost-to-revenue should be. With this informa­tion in hand, you can then design your workforce to better reflect your business marketplace. Few companies, in my experience, are this analyti­cal about their workforce mix—most tend to look at head count rather than overall costs, skill sets and real retention needs. Only looking at head count can skew your view and bloat your ranks. The next, questions to ask are: is the workforce located in the most strategic locations to drive growth? What is the organization design? Is it flexible to surge with the market, or do you have fixed costs that are slow to change? Workforce planning in this manner will become a critical skill of HR/OD profession­als. This is the financial end of workforce planning. Without this financial rigor employed by HR/OD, companies run the risk of repeating the bloat of the 1970s and 1980s that is at least one factor impacting such venera­ble companies as GM and Ford. New start-ups, like Infosis, the Indian technology powerhouses operate more cheaply—not only because it is in India (although it is building facilities in the U.S.) and Toyota because they actively understand and manage the employee cost equation to product costs. This area of financial understanding has often been in the backyard of finance professionals. I contend that HR/OD must be well-versed in this area and lead these types of workforce analytics to continue to be relevant. While this equation is important, it is equally important to understand in a deep way the skill set needs and shifts.
Human resource and OD professionals have always talked about understanding skills sets and competencies. But now we have to under­stand skill sets in light of the future business strategy and start building talent for what the future will be and not what it is today. They have to know where the best talent is in the world for these skills sets and create talent pools in these locations. They have to think about organization design models that work in a global company, that are efficient but also enable employees to feel a sense of community and career growth. These professionals must know the total business fundamentals in ways they were not called upon before to understand. Understanding how money is made, how the supply chain works, what the financial picture is, and how the people fit is critical. HR/OD professionals must be business leaders in their own right. They must be able to use data and statistics to tell the story and demonstrate improvements. If you are not comfortable with the numbers and how to correlate cause and affect data you will need to get comfortable to be credible going forward. A good example is being able to know the critical skill sets that differentiate top performers from mediocre performers and know which specific skills in fact drive results. This can be done through data collection on current skills and using statistical tools to isolate the critical factors. We have to get away from arguing for competencies (HR/OD jargon for most managers) and make a concrete business case for key skill development. If one can do this, the argument is eliminated as to where or whether a company needs development pro­grams or not. It will be obvious.
Let us delve further into the discussion of culture. Understanding how to assess company culture, and provide a clear picture of how culture will drive or inhibit execution of a company's strategy, will be essential. Pro­viding a simple and crisp cultural analysis that is statistically correlated to performance will definitely buy you a strong place in the management ranks. The question of organization culture is now proven to be a key component of organization success. A study conducted by a Fortune Twenty conglomerate reviewed the causes of why acquisitions failed and found four key elements that contributed to the inability of acquisitions to meet the pro-forma of the initial deal: ineffective understanding of the leadership capability; lack of understanding of the cultural capability; not replacing or focusing the HR/OD efforts on leadership and cultural fit early, and finally, not instituting strong financial controls. This study underscores the need for strong leadership assessments and cultural assessments and having the HR/OD professionals that are capable of con­ducting these types of assessments.
Today, HR/OD professionals must have the ability to assess leaders, iso­late the core behaviors that will drive the business forward, or keep it from progressing. Factor analysis and other social science statistics can help businesses understand the behaviors that most contribute to high perfor­mance and most contribute to strong leadership. Sadly though, of the studies conducted of numerous Fortune 100 companies they are still focusing solely on the behaviors of results to the exclusion of the other critical skills of global leaders. Robert Cooke, CEO of Human Synergistics through his research on leadership behaviors and their impact on organi­zation cultures, has proven that certain behaviors create positive or nega­tive organization results. HR/OD professionals must be able to conduct these types of studies and use this data to help senior executives under­stand what they need to do in quantifiable terms to drive performance. The science is to such a stage that one can isolate a specific set of behav­iors and see the correlations to organization performance and culture. We now have the hard evidence that links what we believed in the last century about leadership behaviors and values to real organization performance and impact. How many HR/OD professionals can use this data to have business conversations with CEOs in the language of business so that they can see the financial return of focusing on culture?
To summarize HR/OD professionals must be business strategists, com­fortable with numbers, strategic thinkers, cultural experts, community builders, and talent assessors and developers. This requires deep under­standing of:
company cultural elements and how to shape the culture to best fit the new business realities;
employee development strategy and how to keep the employee vitality strong; and
how to develop and engage employees to drive high performance.
It is essential to do this with rigor and analytics that reflect the lan­guage of business and not of OD or HR. Daunting but exciting for those who feel passionately about building strong organizations that thrive financially, are great for the people who work there, and contribute to the communities in which these companies reside.
GLOBAL LEADERSHIP
What is changing for leaders? Leaders now must know how to operate globally. This means, to be successful, they must understand not only country cultures, but organization culture. They have to understand global and regional economics and the various different operating mod­els around the world. They have to be able to engage and energize employees even though they may be managing teams that span the globe. They have to be able to lead teams with diverse perspectives and attract and develop diverse talent. Successful leaders maximize people differ­ences and maximize technology to do so.
Additionally, leaders now must understand many more facets of the business than ever before. It is not enough that they understand the busi­ness financial fundamentals. Often leaders of the past, like Jack Welch former CEO of GE, came from one or two frames of reference—engineer­ing and operations. He made GE lean and efficient, but it really was the financial arm of GE that drove the double digit profits of the 1990s. His frame of reference was manufacturing. Jeff Immelt, current CEO of GE, views GE through a different frame of reference which is sales and mar­keting. His emphasis is much more on growth. He has launched a bril­liant eco-imagination campaign to help market GE as green. He sees GE through the customer's eyes and is less focused on the operational areas. The point here is that according to Hambrick (1996) leaders shape their companies through their own functional experience. If the functional experience is financial, they tend to focus on that end of the business to drive success. Today however, leaders must understand human resources like never before, and these implications globally. They have to under­stand various business models and have deep expertise in more than one functional area. In fact, the ideal would be deep expertise in at least sales, marketing, operations, supply chain and how to globally leverage tech­nology. They have to view their enterprises from a variety of lenses. They have to understand most areas of a company and what multiple levers are needed to pull in order to drive efficiency and growth. This means that leaders with potential must be identified earlier in their careers, and com­panies need to put in place orchestrated ways to grow talent so they have broader experiences to draw upon. Career development then becomes much more critical to business—it is not just nice to have, but essential to get talent ready for larger leadership roles. Careers must be better planned and less happenstance. As I interview leaders, I am amazed how-some have meandered through their professional lives.
Younger workers coming into the market place want to know what career opportunities they have. Career development is a key differentiator for employers today. As salaries and benefits become more uniform around the world, the elements to keep employees in a tight market are clear career paths and advancement opportunities. How well a company orchestrates career advancement is a big differentiator. Management associate programs that bring talent in early in their careers and develop them for future roles, is a must. We are now seeing a proliferation of these types of initiatives. People have choices of where they want to work and good talent can move around more readily.
TALENT MANAGEMENT
Finally talent management is front and center today of any business's suc­cess. According to Ready and Conger (2008) in a study they conducted of 40 companies around the world, virtually, all of those companies lacked successors for their leaders and had insufficient pipelines. If you scratch the surface of many succession plans, you will find that the successors are really not individuals that are placed in the identified roles if someone leaves or moves on. Succession planning is often a corporate exercise that amounts to little development and change. They also point out that those companies have processes and systems in place to assess talent and develop pipelines, but they are not aligned to where the company is head­ing. Companies need to have a better way to assess the talent they cur­rently have with real data so they have a true inventory of existing skills. Most companies rely on their own internal assessment of their talent and it is usually the employee's manager who does the assessment. More rigorous assessments should be put in place that are behavior-based and have some independent judgment. This will provide the company with a truer point of view on the gaps and what they need to do to develop their leaders. Not having robust talent management leaves a company extremely vulnerable when they need to deploy talent fast to get a strate­gic advantage. Recruiting from outside the company costs a lot of money in terms of time and recruiting fees. Often outside talent can't make the cultural adjustment to the new company environment. Home grown tal­ent understands the culture and how to make things work. Additionally, you cannot be sure that you have the best talent if you bought it rather than developed it internally.
In particular, organizations will need to analyze the future of the busi­ness and map the talent to that future to realize the gaps. The data from the gap analysis becomes the basis of creating a talent plan that looks as detailed and focused as a business plan and provides a true baseline from which improvement can be effectively measured. A deep under­standing of existing talent is essential. Without this understanding it will be very difficult to get the talent to the right places quickly enough to win.
Leaders should become their own chief talent officer aided by their human resource colleague. Together they need to fully understand the depth and breadth of their talent and they need to have a road map that builds successors and pipelines. This cannot be left to chance. Rigor is required and candid assessments and feedback is central so people under­stand where they stand and what they need to do to grow and remain competitive. Leaders must be willing to invest in people's development earlier in their careers so that they have the global talent needed within their companies to sustain growth. Great leaders attract, retain, and develop great leaders.
CONCLUSION
All three of the factors discussed above—great human resource profes­sionals with deep OD skills, well rounded leaders that can operate sophis­ticated businesses globally, and development of the best talent—are interrelated and fundamental to business success going forward. Organi­zations that have the best HR/OD business leaders that are catalysts for change, the best leaders that understand all aspects of the business and can operate globally, and the best talent in all their jobs, will win today and tomorrow. This will be OD's legacy of the future.