Through her rich experience, innovative thought leadership, and engaging style, Linda continually inspires audiences around the globe.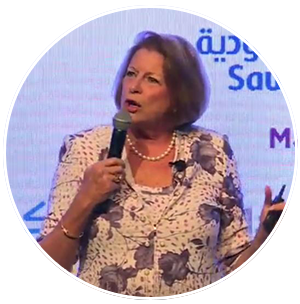 Building high performance cultures
This presentation provides the nuts and bolts of ensuring your culture supports your company strategy. You will learn what to look for in your culture, how to analyze your culture for strategic execution and what to do to drive alignment between your leaders, your culture and your strategy.
How to ensure you have great talent to meet your challenges
Talent is the single most important issue on most CEO's minds today. However, much of what we do in the talent space is based upon 20th century beliefs, practices and realities. This presentation provides a statistical and valid framework to ensure you have the right talent to compete now and in the future.
Coaching to greatness
Learn how to put coaching to work in your organization and make it part of your development DNA (to build and retain great talent fast and replace performance management). Learn steps to build a coaching culture that is timely, cost effective and fast.
Women in leadership
Women will continue to be a growing force in any organization. Yet their ability to make strides in corporate America has been slow. This discussion focuses on the 5 actions you can take now as a female leader or as an organization to build powerful women leaders.
Transformation of the workplace in the 21st Century
This discussion focuses on the 10 critical forces that are shaping the workplaces of today. Organizations who correctly recognize these forces and proactively manage them will have a distinct advantage in the years to come.
Culture – the glue to organization success
"Culture eats strategy for lunch" says Peter Drucker. This discussion helps you understand the role of culture in your business and understand it's impact on your bottom line and ability to retain/attract talent. Learn how to shape values that matter and leaders that live your values to ensure your culture is productive.
Building a global mindset
Global expansion is the new normal and having leaders that can create value in the new normal is essential to succeed. This discussion focuses on the 5 dimensions of global leaders that have been proven to drive business success. You will learn the dimensions and how to spot and develop them in your leaders and talent pool.
Developing great global talent
Building a pipeline of great global talent is a must in today's markets. Organizations must be able to tap into great talent at all levels in far reaches of the global to capture true innovation. This discussion will focus on the 3 steps needed to build a great pipeline of talent and how to retain and grow that talent to capture innovation.
What Others are Saying...
"We were fortunate to have Linda as a keynote speaker at our annual HR conference in Utah. She related well to the audience as a fellow HR professional, and provided the unique perspective of someone who has worked with some of the top executives in our nation. In addition to delivering strong relevant content, she was also an engaging speaker that drew the audience in with her stories. Participants were jotting down notes to take back to work with them during her entire presentation. She made our conference better by being a part of it!"
– Glenna Lasater
PHR Speaker Director, Utah Crossroads Conference
"We have engaged Linda Sharkey a number of times in recent years to address our clients at various functions. Whether she is delivering a workshop or presenting a short session, her depth of knowledge in combination with her global business experience ensures that our clients gain enormous insight into how they may translate her thoughts, advice and ideas into their own organisations. She is a generous speaker in terms of taking time to really understand the needs of each group she is addressing and many of our clients have commented on how accessible her delivery style is. I look forward to engaging Linda again in the near future."
– Corinne Canter
Senior Consultant, Human Synergistics Australia
"I just wanted to thank you personally for making the trip to Dubai and inspiring our audience here in the United Arab Emirates. Your wit, expert guidance, unparalleled delivery and can do attitude left a mark on all that were present. Presentations are a dime a dozen – but people that leave an indelible mark on those they interact with are rare. I would very humbly submit that you are one of them and I was personally inspired too."
– Kenneth Mukasa
Programme Director – Thought Leadership at Informa Middle East
United Arab Emirates
Speaking Availability
Interested in Linda's speaking availability? Complete this short form and we'll get back to you OR call (910) 553-4125.