Future-Proof Workplace Radio Show

Thursdays 5 pm ET
Listen Live at W4CY.com
Look out! Across the globe conventional wisdom is being thrown out the window. Rules that once made sense no longer seem to apply. This show is an essential guide to thriving in turbulence. It's packed with compelling real-world cases on how to remain competitive in these unprecedented times. Hosts Dr. Linda Sharkey and Morag Barrett share first hand experiences, latest research and exceptional guest insights to future-proof your career and company. Can you survive? Of course you can. But prepare now and act!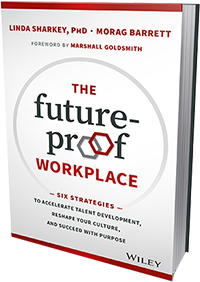 Upcoming and Archived Shows:
July 26th Show –
A Remedy for Leadership Challenges in the 21st Century
Today's special guest is Angie Morgan, former officer in the United States Marine Corps and New York Times best-selling author. Listen in as Angie shares the common leadership challenges she has witnessed in the last 20 years that hold back individual careers and organizational success.
Examples of Recent Shows...
Are we Catching Up to Make Star Wars a Reality?
– With Vivek Wadhwa
Distinguished Fellow and adjunct professor at Carnegie Mellon University's College of Engineering. Artificial Intelligence
Traditional Leadership Tools are Dead Along with Hierarchy
– With Michael Chavez
CEO of Duke Corporate Education
What to do when Machines do Everything – How do Humans Get Ahead?
– With Benjamin Pring
Co-leader of Cognizant's Future of Work Center