Leadership development programs should be customized to meet your company's unique needs.
We design programs that leverage the latest in leadership development approaches including technology to connect teams of leaders globally so they can learn and grow real time.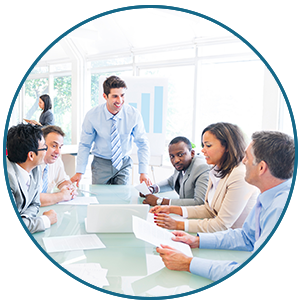 Transglobal Leadership Development
This series of programs builds upon the research of what makes great global leaders. We have a series of programs designed to develop leaders and prepare them for the challenges of a new global assignment. We also have unique simulations that enable talent to experience a global assignment first hand and practice the Transglobal Leadership Dimensions.
Global Leadership in This Millennium
In Linda Sharkey's intensive 1-day "Global Leadership in This Millennium" program, leaders are immersed in a simulation, working with global team members. Based on extensive research and Linda's best-selling book "Winning with Transglobal Leadership" includes a simulation used by numerous Fortune 500 companies. Participants experience working with others of different values and experiences.
This powerful program is making a big difference in many companies expanding globally.
The program is highly interactive and includes:
Transglobia simulation and debrief
Analysis of organization culture and its role in building strong alliances
The Transglobal Leadership Personal 360 Assessment and debrief (individually and in teams)
Personal Action Planning and peer coaching
Peer coaching follow-up with a master coach 6 weeks after the program
What Others are Saying...
"We specifically chose Linda Sharkey from thought leaders around the world based on her unique, researched, and lived insights about how successful leadership works in the world of multinationals and importantly how it can be developed. Her theory about 'transglobal leadership' resonated powerfully with our audience of multinational executives providing them with practical steps for improving their own leadership effectiveness and that of others. She was also a delight to work with."
– Rich Hirst
Director, International HRD Forum, CEO Forum Group
"Linda Sharkey is one of the greatest leadership development professionals and executive coaches I have ever met."
– Marshall Goldsmith
Best Selling Author and Top Executive Coach
Leadership Development Interest
Interested in more information about Linda's leadership development programs? Complete this short form and we'll get back to you OR call (910) 553-4125.