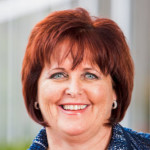 It's been over 30 years since we first started using the term the "glass ceiling" to describe the shortage of women in corporate leadership roles. Thirty years later, despite all our efforts to create more opportunities for women, we're still woefully inadequate in this area.
I worked in corporate America for many years. I know there are programs in place to help women and minorities move up the food chain and into executive positions. But for the most part, it still hasn't happened. You have to scratch your head: why does pay inequity still exist? A job is a job, whether a woman does it, a man does it, or an African-American does it. How they do it should be the point of reference.
The failure of the corporate world to become more inclusive was one of the topics I raised in my interview with Margaret Keane, CEO of Synchrony Financial, on a recent broadcast of my radio show, iLead: The Leadership Connection.
Synchrony, which split off from GE last summer, is the largest provider of private-label credit cards in the U.S., and Margaret is an inspirational leader. I like to offer Margaret as an example when people say to me, "If I promote my best people, how will I fill their jobs?" Margaret does a couple of unique things at Synchrony. First, she finds out a person's aspiration and works with them to help them achieve their goals. And then she helps them move onto their next role.
She did that with me when we worked together at GE, and I'm exceedingly grateful. Here's a look at our discussion.
The challenges of going through an IPO
"I'd say the first challenge was just understanding how the IPO was going to work and the expectations of my role in the process," Margaret told me. "It's hard to describe the enormous amount of work that goes into just filing the IPO. And then once the filing is done and you're out on the road, there's a lot of excitement. I'd also say it's exhausting. You have to really be on your game. You have to have a tremendous amount of confidence that you'll be able to articulate what your business is about, how it works, and what your vision is for the future.
"Going through that whole process for me was just a tremendous learning experience. And to be frank, I'm still learning."
One of Margaret's most crucial leadership tasks was making sure employees were on board with the change. Many people at Synchrony had only ever worked at GE before, "so creating an atmosphere for employees to feel really good and excited about the separation was very, very important," she said.
"I had to worry not only about my leadership team, I had to ensure that the folks who were interacting with our customers every single day also felt good about the process."
Synchrony was already in the habit of holding webinars, meetings, and round tables to facilitate communication among its employees. But during the separation, communication played an even bigger role. "One of the things we really wanted to do was create excitement about this new journey for the company," Margaret told me. "Once people felt confident they were still going to have a job and things are moving in the right direction, then everything really settled down."
Figuring out what they stood for
Right from the start, the company strove to identify and articulate its values. "I wanted to make sure we thought about what we stood for as a company," Margaret said. "And more importantly, how do we take what we saw as the good things of GE, bring those forward, and then create our own vision and purpose for our company. So I embarked on this very early in the IPO process. I felt it was very important that the organization rallied around and felt good about our purpose and our values."
Crafting their purpose statement was a team effort, involving input from customers, the leadership team, and employees throughout the entire company. The process was labor-intensive, but Margaret said, "It was something I felt strongly about — that in order for us to come out of the gate as a strong, highly valued company, having a purpose and values that we believed in was really important to us as an organization."
That statement still guides company activities every day, Margaret told me. "We've been rolling this out across the whole company, and in various unique and fun ways."
For example, an intra-company profile website encourages employees to post images of how they're living their favorite values. "I think it's really working to show how those values are coming alive inside the company."
Why women are still scarce in leadership roles
"To be honest, I've really been trying to understand myself why this is happening," Margaret said. "One of the things that stands out for me, as I mentor women, is that there's still this incredible view by women that they're not ready for the next big step. I've even had conversations with women who have gotten the big role and come to me and say, 'I don't know how I got this role, I don't think I should be in it.' So there's this questioning that I think women do.
"Honestly, I've never had a man come and tell me, 'I don't think I can do this role.' Never."
Margaret told me that when she was moving up the ranks of GE, her natural inclination was to sit in the back row at important meetings. "Maybe I would have made it sooner, if I'd been a little bolder to take a seat at that table," she said.
One day, another executive at GE invited her to sit at the front of the room. "So I always watch: who's sitting on the side? Who's in the back? As you're moving up the ranks to this new level, whatever level it is, you need someone in the room who is going to be friendly to you and help you along. And I think that's something all of us can do."
Synchrony has launched a women's network, modeled on a similar group at GE, that allows women employees to share their experiences and support each other. "I feel like I was helped, and now I'm making sure I help other women," Margaret said. "I think each of us can play a role there."
Millennials in the workforce
Margaret told me about the time her daughter started a new job in a research lab. Her first week on the job was a time of staffing transition. In the midst of the confusion, she texted Margaret to confess she didn't know what she should be doing. "I said, well, why don't you clean something?" Margaret said. "There must be something you can clean in that lab."
Her daughter decided to clean the refrigerator, and as luck would have it, the head of the lab noticed that she'd taken the initiative.
Other millennials should consider ways they can step up to the plate. "It's really about standing out in a crowd, doing the hard work, doing the job somebody else doesn't want to do," Margaret said. "One of the challenges with millennials is that how we brought them up was very orchestrated. Then we put them in the work environment and if it's not as structured, they're not as comfortable. Helping them just jump into something and get right to it is an important thing."
Company culture has a greater influence on millennials than it did on previous generations, Margaret told me. "I think you need to have a company that understands diversity and is very inclusive, because that's how millennials think. A culture where people feel they have a voice, a culture where people feel they're contributing to whatever the endgame is."
"Having that kind of open, inclusive, diverse culture really just attracts talent, retains talent, and allows people to feel good about what they're doing every single day," she said.
Three recommendations for leaders
I asked Margaret what three pieces of advice she'd offer corporate leaders.
First, she told me, was creating an inclusive environment. "I think people really look for that. They want to feel like they're working for a company that really values their diverse thoughts, in a culture where people will listen to them, and where they feel like they have skin in the game.
"The second thing is innovation, no matter what industry you're in today. You need to be aware of what's happening in your industry and you need to be at the top of your game when it comes to innovation and technology.
"And last, you really have to be open to understand that great ideas can come from anywhere in the organization. You need to create a forum inside the company where you're able to get those voices heard."
Most important of all: "You have to act upon the ideas," Margaret said. "If you're just collecting a bunch of ideas and not doing anything with them, then people are just going to say forget it. You have to create a process around capturing ideas, executing ideas, and rewarding people for those ideas."
What's your purpose statement?
Talking with Margaret really got me thinking about finding your purpose. While it's important for an organization, I'd say it's just as important for a leader. What are you trying to achieve through your leadership role?
Part of your purpose as a leader should be to find those gems in your organization, extend a hand to pull them up, and help them achieve their dreams.